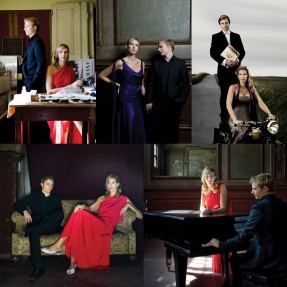 BRUUN HYLDIG DUO
Ever since Hetna Regitze Bruun and Kristoffer Hyldig first met at the annual summer course with "The Danish Song Society" in 2006, they have been working together continuously as a duo, especially with focus on spreading the knowledge of Oliver Messiaen´s music, and to which they have succeeded greatly by giving concerts in DR concerthouse, Aarhus Concert Hall, Hindsgavl Festival, Aalborg Art Museum, in "The Danish Song Society´s" concert series, Oremandsgaard Musicfestival,  Bornholm Musicfestival, Leeds Lieder, UK, Maison du Danemark, Paris, Washington (American University) and at the launching of the lobby concerts in the new Danish Radio´s Concert Hall (studio 4).
They released their first CD at NAXOS in dec. 2009 with the songcycle "Harawi" with great succes and have been praised highly worldwide  in the musicmagazine. (See Press). There were also nominated for their "Harawi" CD at the Danish Radio Music channel P2 in the vocal category and preformed at the live  prize ceremony in the DR great concerthall.
Other repertoire are also lieder by Schubert, Strauss, Mahler, Nielsen, Koppel, Poulenc, Debussy and Duparc.
In 2011 they released a CD at NAXOS with songs by Danish composers from the 20th century, H.D.Koppel, P.Rovsing Olsen, V.Holmboe, P.Schierbeck and E.Norby.
In 2015 Bruun Hyldig Duo released their third cd with vocal works be O. Messiaen. See more here.
In 2017 Bruun Hyldig Duo released their forth cd with vocal works the danish composer Poul Rovsing Olsen, who was a student of O. Messiaen. See more here.
Pianist Kristoffer Nyholm Hyldig made his concert début in 2010 at the Royal Danish Academy of Music, and for many years he has been a very active contributor to Danish music culture as a soloist, chamber musician and accompanist. He has performed with orchestras conducted by, among others, Michael Schønwandt and Jean Thorel, as well as the Turangalîla Symphony with the Royal Danish Orchestra and Michael Boder. He was awarded the Jury's Special Prize in the 2009 EU Piano Competition in 2009, the Jakob Gade Scholarship, the Léonie Sonning Music Foundation Scholarship and, most recently, the Danish Music Critics Award. He has also produced recordings to be used in several Zentropa-produced movies and is a founder of Messiaen Quartet Copenhagen.